Your Ticket to Once-in-a-Lifetime Experiences & Savings for the Whole Family
- Early Access to TPG Videos and More

- An Intimate Community of Frriends and Music Lovers

- Savings for the Whole Family
Private Facebook Community
20% Off Savings Year-Round
A Single Login For Everything TPG
"It's a big world out there, and sometimes that can make it hard to connect
with like-minded people, content, and messages for yourself and your family.

So, we created the Living Room
as a way to help connect you with other TPG Fans, and with us!"
An Intimate Community of Friends and Music Lovers
We love when we get to interact with you, and lately our community has been getting large enough that we're not able to spend as much quality time with each of you. Our new Members Facebook Group changes all of that, giving us a new space to talk with you and keep our TPG community vibrant and connected to each other.
Savings for the Whole Family,
All Year
discounts on passes, albums, sheet music, and exclusive merchandise.
Being a CLUB VIPG Member is your ticket to savings all year round. Thinking of getting your nephew the new TPG Sheet Music for his birthday? Great! It's 20% off. What about soundcheck passes for family or friends? Yep, 20% off as well!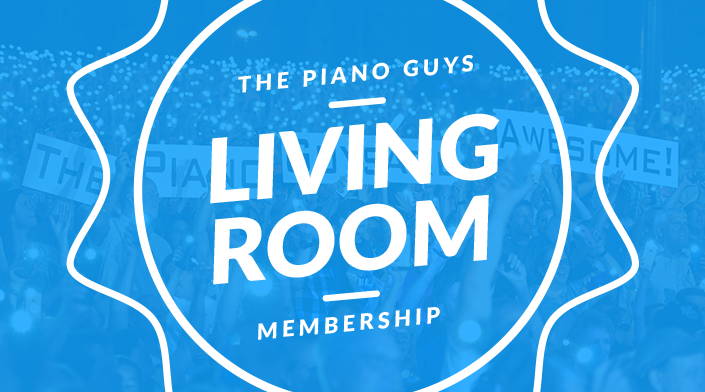 Benefits for TPG Living Room Members:
- One login for thepianoguys.com and the TPG Living Room
- Access to the exclusive Club VIPG FB Group
- 20% off on your purchases from the thepianoguys.com
- Early Access to Music Videos and Behind The Scenes
"Okay...I'm not in the bat cave, I'm in HEAVEN! Thanks Guys! You never ever fail your fans, and we Love you for it!!"
Diane Wiley
"This was awesome :) Exactly the kind of content I signed up for. Thank you guys!!"
Rayden Vaughan Montes
What will happen to my current Living Room Subscription?

Why is the Living Room moving?

What are the new features inside the Living Room?
Don't Miss the Chance to Save for Your Whole Family!
Join Us in the Living Room!